Description
Ethel Crossbody Purse
Ethel Crossbody Purse Style includes adjustable strap, top zipper, 5 pockets.
Print theme:  abstract swirls and hearts on black background.
Colors Outside:  whiteprint  on black.  Top is solid black
Colors Inside:  same print as outside, but reversed; black print on white. Pocket is black.
Dimension:  13″ wide, 11″ tall, 2″ deep.
Inside: Lined
Straps: adjustable black
Zipper:black
Hardware:  Strap hardware is pewter-tone metal
Pockets: 2 outside, 3 inside
Care:   Machine washable. Air dry.
All Handbags by Grace are ScotchGuard™ protected.
This is actually a handbag I made for myself, from the same fabric I gave the prothetist to cover my protheses.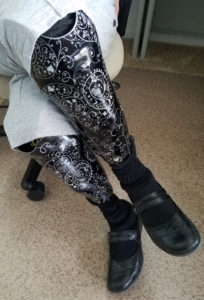 This crossbody purse feels like it weighs nothing, until I put something inside. If you're concerned about purse snatchers on the street or on public transportation, wearing your purse across your torso makes it more of a challenge to the bad guys who would like to snag your bag.  (Make sure your purse is solidly closed and wear the opening against your body.)
Crossbody bags are designed to be worn on one side of the body with the strap looped over the opposite shoulder. Cross-body bags are functional fashion accessories created for men, women, and children. A Crossbody Bag remains secure when in place, while offering the wearer easy access to his or her items. As with any bag, the materials and construction method vary; but all Crossbody Bags constructed by Handbags by Grace are made from the highest quality fabric.  All Handbags by Grace bags, including this original Ethel Designer Crossbody Purse, are made completely in South Bend, Indiana—not China, or Taiwan, or Korea.  Did you know, for example, that almost all bags sold in department stores are made in China or Taiwan?  (Vera purses have not been made in the USA for several years.)
50% of Handbags by Grace profits go to Wycliffe Bible Translators missionaries Devin & Charity Schlote.